Broadband is an always-on Internet connection a type of data transmission in which a single medium (wire)
can carry several channels at once that gives you high-speed access and downloads. It's been the indispensible
element for various faster networking in the era.
Broadband services can be delivered by different ways - over an ordinary telephone wire of a local telephone network provides digital data transmission (ADSL, one DSL family of technologies), over a cable-TV connection (Cable),
or Fixed wireless or wirelessly through the air via a satellite dish aerial.
RF connectors are also vastly used for broadband application such as Routers, Switches, Ethernet Network,
Broadband Network, Cable Modem, Testing Equipment, Instrumentation..... etc.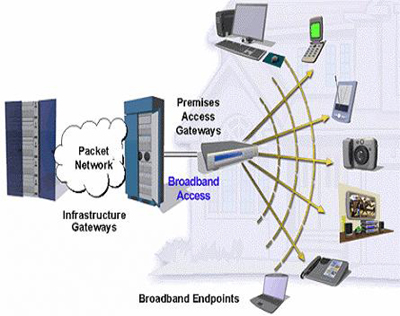 Source:http://www.networkdictionary.com/networking/BroadbandAccess.php
Suitable connectors for this type of Application:
A. Ethernet Network: 1.6/5.6, BNC, SMA, SMB, MCX, SSMC
B. Switches: 1.0/2.3, N, SMA, BNC, SMB, MCX
C. Routers: 1.0/2.3, 1.6/5.6, SMA,RP SMA,SMB,MCX
D. Cable Modem: F(high speed Modems), BNC
E. Test & Measurement: SMB, SMC